I found these 2 products randomly at a drug store while travelling in Tokyo. At first I was deeply attracted to their packaging...yes, anything pink with flowers can never escape my sight. Then I saw the word "Sakuraberry", so I thought they'd definitely smell nice.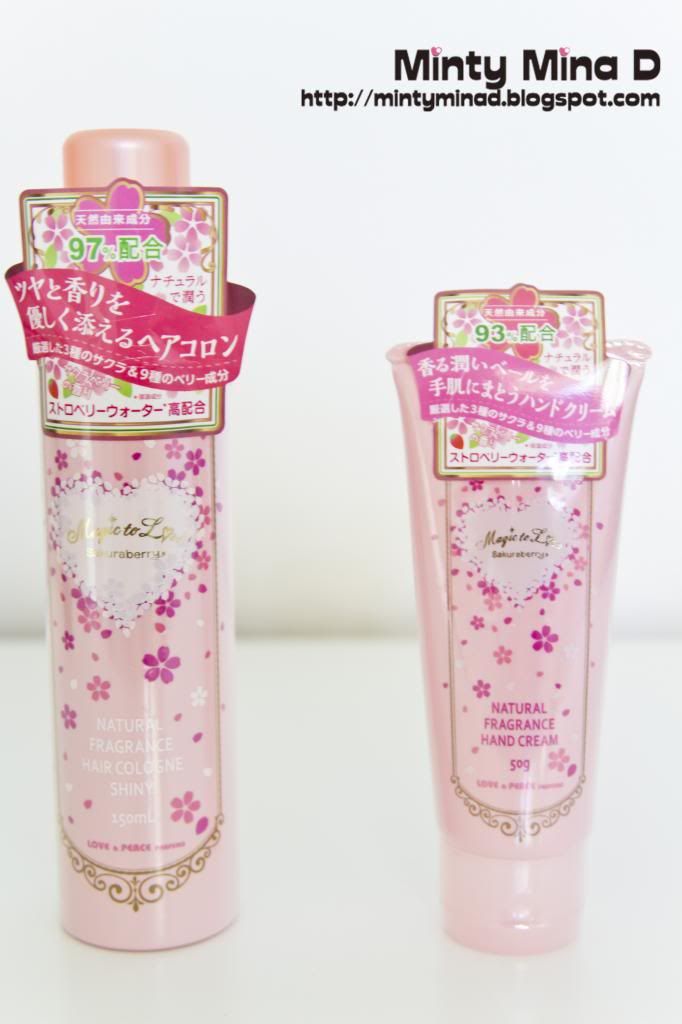 (The Hair Cologne comes in 150ml with 97% natural ingredient, and the hand cream comes in 50g with 93% natural ingredient)
First I tried the hair cologne, and OH MY GOD I fell in love, like seriously in luuuuuurrrv! The spray had a mixture of flowery and fruity scent, and it make you so feel so refreshed which is almost like you just got out of shower. It was very sweet, and indeed it matched with the cute packaging. The scent seemed to have lasted quite a long time too, I remembered I could still smell it near the end of the day.
Then I saw they had a hand cream from this range too, but the scent is slightly lighter. Travelling in Tokyo in winter has made my hands very dry so I tried a little bit to test how it was. The cream spread out very smoothly on the hand and you can immediately feel the difference after a few minutes of application. Afterwards, it left your hands very moisturized and slippery, and they last for a long time as well. Although, the scent did seem to fade quite quickly.
These 2 products costed approximately $20AUD altogether. Apparently they had other products in this range too such as body mist, perfume, shampoo etc. But I ran out of money by then so I couldn't really get anything else...*sigh* I would totally recommend this series of products to all the girls who love sweet scent and as well as consistent quality products.
Pros:
- Lovely colour and packaging
- Sweet and refreshing scent
- Affordable
- High and consistent quality
- Easy to apply
Cons:
- The scent of the hand cream fades away quite fast
- Quite hard to find
- Not really suitable for travel use